Update:
Featured Samsung and Spark bring Kiwis smartwatch with standalone connectivity
First you need a 3G or 4G compatible SmartWatch:
Do NOT get a Samsung Gear S3 (BlueTooth) - SM-R760
Do NOT get a Samsung Gear S3 (BlueTooth) - SM-R760X - This is a "Display Model"
If you are holidaying in a country over Xmas that only has a 4G mobile phone network, then get the appropriate 4G capability: Samsung Gear S3 (LTE) eg. Singapore's SM-R765F has 3G and 4G (cf: Wikipedia: Samsung Gear S3 comparisons)

Important: If you was international 4G compatibility, ask the sales person to confirm the watch supports LTE-4G preferably have "watch supports LTE" written on the receipt, or you run the chance the watch wont receive Texts or calls when you holiday overseas.

Note that Spark New Zealand seems to have a special arrangement with Samsung (and Noel Leeming) to provide NZ with pre-downloaded Spark eSIMs for the SM-R765N series watch.
Note: Before you visit New Zealand downloading your eSIM. This is because the NZ provider "Spark", has yet to traine it's shop front staff on how to download an eSIM using the international QR code.
How to (download and) register your international eSIM:
International eSIM registration.
First you need an appropriate QR code from your mobile provider:
This QR code links to the

"airon" eSIM download web site and from this web site a new eSIM profile is downloaded to your watch.
Download the Samsung Gear S3 app form your app store.
Once downloaded select: "Gear eSIM profile: Register Gear eSIM profile via phone"
Step-A) "Register an eSIM profile to connect to mobile networks via your Gear. Tap SCAN to read the QR code on your eSIM voucher."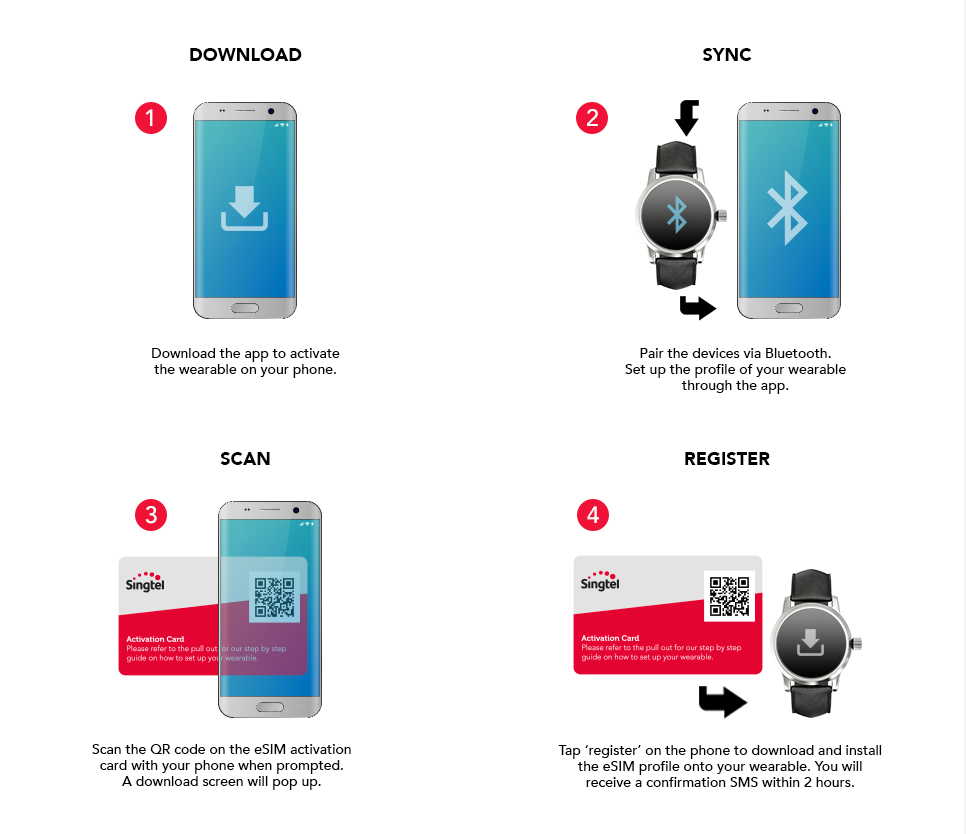 https://prod.aironv4.gi-de.com/sr/rest$4E0B86696D8665E69BF35C4DF7A76D8D

https://prod.aironv4.gi-de.com/sr/rest$

3528FF91251647CA130669E2B393584F
Step-B) "A new eSIM profile has been detected. Tap REGISTER to download and install this eSIM profile on your Gear."
Trouble Shooting:
"Failed to register the eSIM profile". => "A Gear system error has occurred. Try again later"
This indicate your eSIM has already been registered or ...

Your mobile phone provider may not have an active


"airon" eSIM download web

server

.
(If the server is off-lin

e, or your provider make not have signed an agreement with

other....
What to do if your mobile provider does not support the QR-Code with eSIM download?
Japan - NTT Docomo picks G&D AirOn service for eSIM deployment
China - 捷德公司推出AirOn V4 eSIM管理解决方案
Europe - G&D presents wearable solutions for banks, mobile operators and OEMs at MWC 2017
Germany - eSIM Management: A New Version for A New Era

Australia -

Vodafone eSIM download server maybe on-line before End March 2018.

New Zealand - Vodafone

eSIM download server maybe on-line before End February 2018.
It is best to pick an Mobile Provider that provides eSIM downloads now. In future all SIMs will be downloaded.
Other consumer devices that support eSIM:
Wikipedia: "Carriers supported by Apple SIM include AT&T, Sprint and T-Mobile US, EE, au, GigSky, Truphone, Three, and AlwaysOnline Wireless. Altogether these carriers provide coverage in 100+ countries. However, activating mobile services on AT&T will permanently lock the Apple SIM to AT&T, requiring the purchase of a new Apple SIM in order to use a different carrier."